Starting with 2013 Timisoara Journal of Economics (TJE) was continued by Timisoara Journal of Economics and Business (TJEB), at the website www.tjeb.ro.
Timisoara Journal of Economics publishes research from various fields of the economic science, of applied or empirical, theoretical nature. The research fields are open to interdisciplinary field also. Thus, consistent with the rating of the Journal of Economic Literature (JEL), any research paper can be accepted. Before publication, the papers submitted are reviewed in order to meet an academic quality level on content and language. Starting from 2012, two issues are edited per year. Besides these, special issues could be published, which will comprise studies with forehand established destination (conferences, symposia and other scientific events).
ISSN (print) 1842-7340
ISSN (online) 1844-7139
Vol 5, No 2(18) (2012)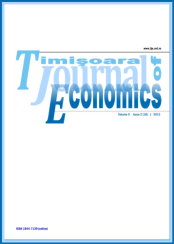 Copyright © 2008-2012 Timisoara Journal of Economics. All Rights Reserved.